Wet Head Assembly
Add to Wishlist
Add to Compare
Wet Head Assembly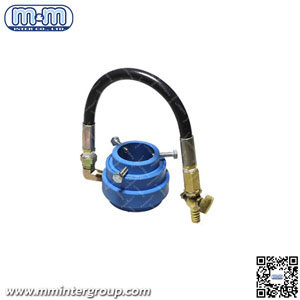 Product Features
PanBlastTM Wet Head Assembly provides a water envelope around the blasting air and abrasive stream, in order to reduce the dust levels generated by the blasting process. Up to 80 % of the dust produced may be suppressed by this water envelope.
Lightweight, durable nylon construction.
Quick attachment via 3 tensioning screws.
Operates at standard water line pressures.
Connecting hose with flow regulation valve included.
Common Applications
Abrasive blasting in populated areas.
Masonry and concrete blast cleaning.