Nylon Hose&Pot Couplings
Add to Wishlist
Add to Compare
Nylon Hose & Pot Couplings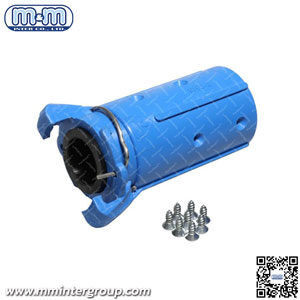 Product Features
PanBlastTM Nylon Hose Couplings (NHC) are designed for lightweight, durable connection of the blast hose to the pot, or coupling of multiple blast hoses. Nylon couplings are suitable for most general blasting operations where impact damage is unlikely.
Tough, lightweight nylon.
Injection molding ensures precise matching.
Internal raised thread eases blast hose fitting and prevents slippage.
Pre-installed, spring loaded safety lock pins.
Threaded versions available for abrasive metering valve connection.
Common Applications
On site industrial and commercial blasting.
Blast and painting contractor yard work.
Blast room applications.
In situ blasting in shipyards and slipways.
NTC-1.2 Nylon threaded pot coupling.